Gathering Activity: Bird Seed Sensory Table
We filled the sand and water table with bird seed, feathers, scoops, and plastic birds. The children had a great time scooping, pouring, and pretending. And the birds in our yard happily helped clean up any that accidentally found its way out of the table.
Circle Time: There Is A Bird on Your Head! by Mo Willems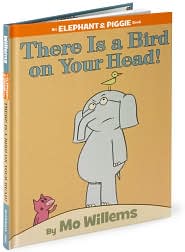 I discovered Mo Willems' Piggie and Elephant series about a year ago. My son was learning to read and these were perfect. They were the perfect length, the perfect reading level, well written and illustrated, and each one had a simple lesson. But most importantly, they are HILARIOUS! I have been waiting all year for spring to arrive so that I could share
There Is a Bird on Your Head!
with my mommy and me friends. In the book, two birds build a nest on Elephant's head and lays three little eggs. Then chicks are born on his head. In the end, Elephant simply asks the birds to move, and they do (onto Piggie's head). It is a cute lesson on using our words to express our desires.
After we read the book we sang two songs/fingerplays.
Two Little Blackbirds
Two Little Blackbirds, sitting on a wall,
One named Peter, the other named Paul.
Fly away Peter, Fly away Paul.
Come back Peter, Come back Paul.
and
Birds in the Tree
We will find a little nest
(cup hands together)
In the branches of a tree
(hold arms up rounded over head)
.
Let us count the eggs inside;
There are one, two, three
(hold up one, two, and three fingers)
.
Mother bird sits on the nest
(cup left hand, place right hand on top)
To hatch the eggs, all three
(hold up three fingers)
.
Father bird flies round and round
(move arms in a flying motion)
To guard his family.
We also enjoyed a fun
Eggs in Nest
counting game we adapted from Preschool Express. We created 5 little nests from paper bags and filled them with shredded paper bags. They were numbered 1-5. The children took turns filling the nests with the corresponding number of eggs.
Art: Bird Nests and Eggs
This project was adapted from ideas found on
Teach Preschool
and
Busy Bee Crafts.
Materials Needed: Shredded grocery bags, cardboard circle, glue, one plastic egg, two orange construction paper beaks, and 4 paper wings.
Directions:
1-Spread glue on the cardboard circle.
2-Press shredded paper into the glue to create a nest.
3-Glue beak in between the two holes in the bottom of each egg half. The holes are the eyes. Add the wings. (This part was pretty tricky and needed lots of Mommy help).
4-Glue the birdies into the nest.
We loved these adorable nests featured on Sun Scholars and just had to make them for Mommy and Me. Click the link for full directions.
Games: Nest Building and "There's A Bird on Your Head" Relay
1-Nest Building
Using found materials in the backyard, the children worked together to create a large nest. They loved playing birds and flew about the yard gathering sticks and twigs. And of course it was a lot of fun to climb inside our nest.
2-"There's A Bird on Your Head" Relay
We used a coonskin hat with the tail tucked in as a nest. Plastic bird toys were placed inside. The children took turns wearing the nest and walking across the yard. It was great balancing practice and a fun way to retell the story!
We will be participating in
The Come Outside to Play Challenge
in April. I'd love for you to join us!